Fall Protection Basic Rescue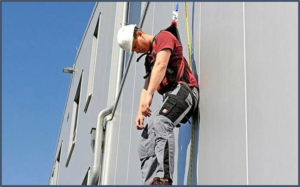 Fall Protection Basic Rescue
This course includes both classroom and practical components to provide both the knowledge, and practical skills required to safely rescue a co-worker. The processes taught utilize a simple standardized rescue system, effective and efficient for fall protection rescue.
Any workplace that utilizes fall protection systems must ensure they have a means to quickly rescue a worker that is suspended from their harness, we can provide both the equipment and training to accomplish this. If you need assistance with your rescue plan or you are not sure what rescue equipment you need at your work site, let us provide you with assistance developing your rescue plan and providing you with your own affordable rescue equipment. We will ensure you have the correct equipment, training and procedures to meet OHS requirements.
Awareness of applicable Legislation
Medical Considerations (Physiology of Suspension)
Basic Rope Rescue Principles
Rescue Equipment Use and Care
Psychology of Rescue
Rescue Planning
Executing a Basic Rescue
Post-Rescue Procedures
Optional Self-Rescue from Height
Practical Training Included
Length: Three to Four hours
Certificate: Valid for two years
Prerequisite: Students must have completed employer-approved Fall Protection training within the last 12 months.
Cost: $150.00
Note: This course exceeds Alberta OHS Code requirements, Part 7 Emergency Preparedness and Response and Part 9, Fall Protection Plan. Certification is valid for 2 years however annual renewal of training is recommended.