Introduction to Saga First Aid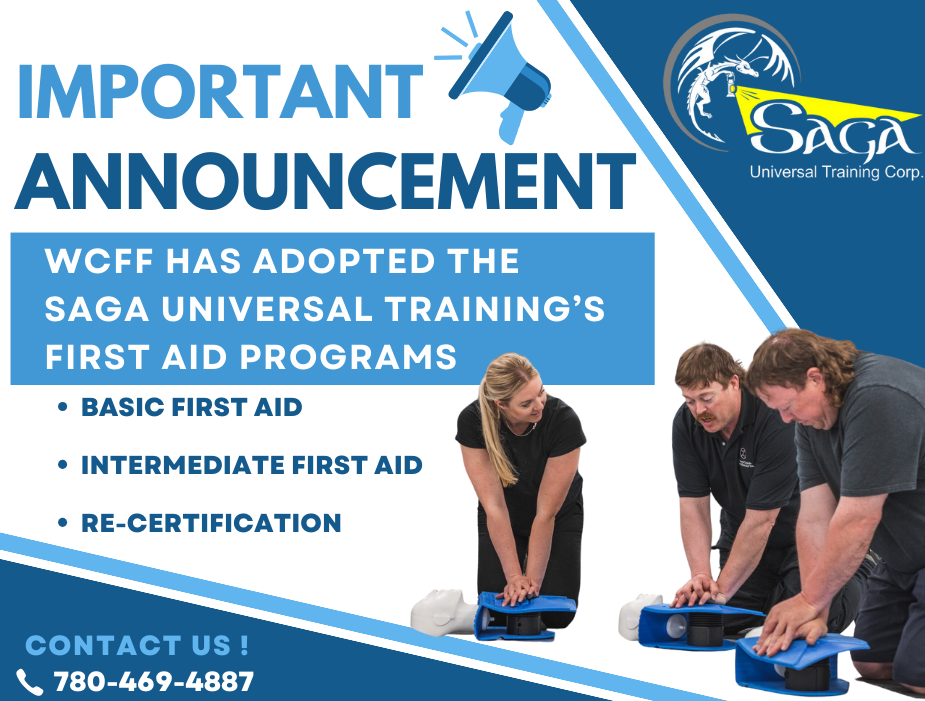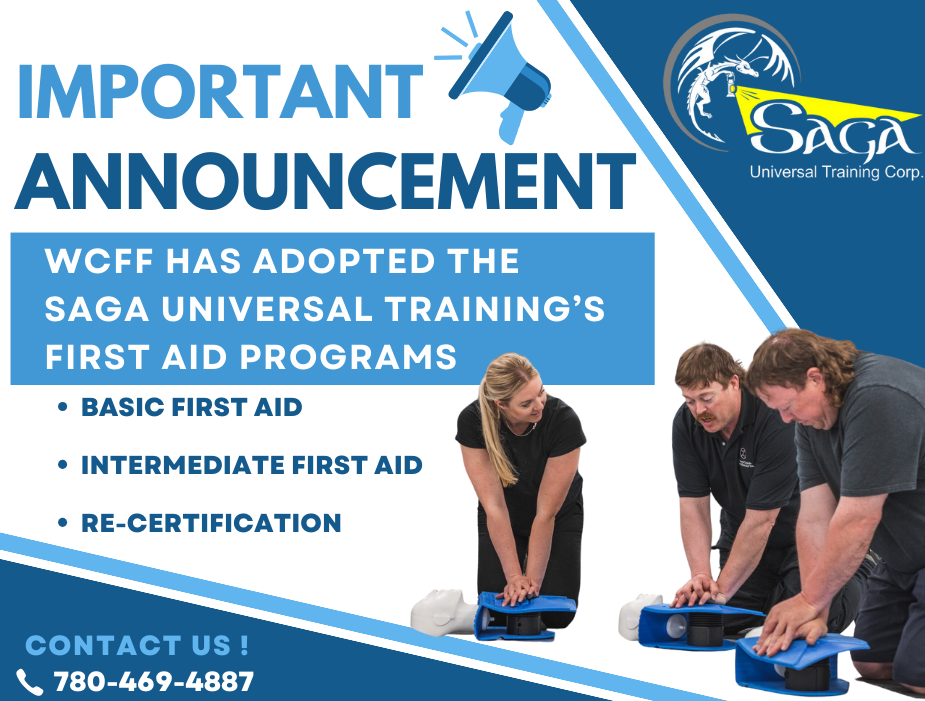 Important Changes To First Aid
We would like to inform you of an important change that will impact your future first aid courses by Western Canada Fire & First Aid.
As part of our commitment to growth and improvement, we have recently implemented the Saga Universal Training Corp. First Aid programs.
Saga Universal Training Corp. is the sibling company of WCFF and has adopted and improved the WCFF programs under their name since 2019.
Change Details: Intermediate First Aid, Basic First Aid & Re-Certification Programs with Level C CPR & AED.
Previous First Aid Agency: Western Canada Fire & First Aid Inc.
New First Aid Agency: Saga Universal Training Corp.
List of Approved First Aid Agencies: This list is updated on the Alberta OHS website every three months, and the next update will be December 2023.
This change is in alignment with our mission to provide you with the highest quality first aid training and certification services. We are excited about this transformation and believe that it will further enhance your experience with us.
What can you expect from these changes?
Enhanced Program Content: Our first aid programs incorporate the latest CSA Z1210-17 standards and Alberta Plus guidelines. The introduction of the CSA standards is to harmonize first aid programs through-out Canada.
We are introducing improved course materials to provide the student with clear language & layman terms.
When it comes to content, the student will not notice a difference since these standards were introduced in January 2020.
In March 2023, WCFF adopted the CSA program name changes.
• Intermediate First Aid (previously Standard First Aid) & Re-Certification.
• Basic First Aid (previously Emergency First Aid)
Certificate Issuance: In the coming weeks, we will begin the process of issuing first aid certificates to reflect our new program name and Saga branding.
Validity and Recognition of Certification:
• Our new certificates will be issued digitally with a unique certificate number.
• Digital certificates are loaded on your Saga student profile.
• Access certificates and course materials anytime by logging into your profile.
Rest assured that the validity and recognition of your first aid certificates remain unchanged. They will continue to be accepted by all relevant authorities, organizations, and employers.
Certificate validation is available on the website: https://www.sagatraining.ca/certificate-search/
Dedicated Support: We are committed to providing you with exceptional support throughout your training journey. Our customer support team is here to assist you with any questions or concerns you may have.
Contact Information: Your contact for course bookings or questions about certification will remain in the hands of Western Canada Fire & First Aid as the Authorized Training Partner of Saga Universal Training.
What has not changed:
WCFF is still providing traditional classroom training with hands on practical skills.
Our First Aid trainers with real life medical experience.
Principles of adult education.
WCFF's newest facility with large classrooms, with ample space between students.
Please note that these changes will go into effect on Friday, October 13, 2023.
Be assured, any certifications or training you have completed with WCFF in the past remain valid and will not be affected by this transition.
Next Steps for You:
Stay Informed! Keep an eye on your inbox for further updates regarding our Blended First Aid programs and Train the Trainer options.
You can also stay up to date on our social media channels.
We are excited about this new chapter and look forward to continuing our partnership with you. Thank you for entrusting us with your first aid training needs.
If you have any questions or would like more information about these changes, please do not hesitate to reach out to our dedicated support team at 780-469-4887 or info@wcff.ca.
Thank you!
-WCFF & SAGA Team